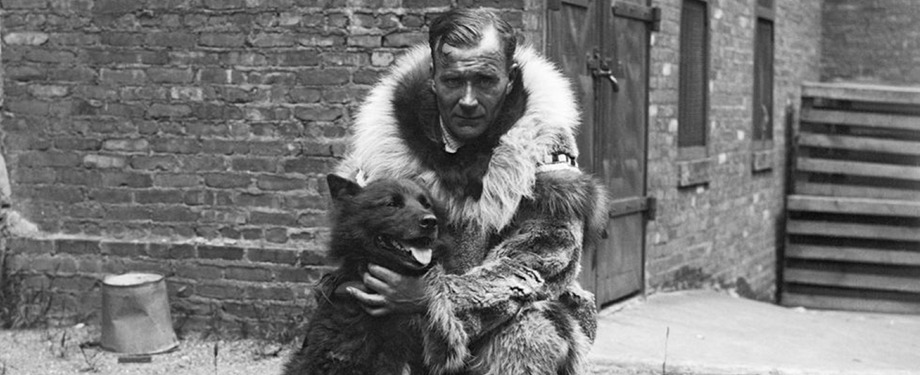 It is said that history is written by the victors. Sadly, they often forget to list famous dog names in history books. We can't have that, so we've compiled a list of top 9 famous dogs in history to give them justice. If you are also interested in famous dog names from movies, we invite you to view our blog: 12 most famous dogs from movies and TV series.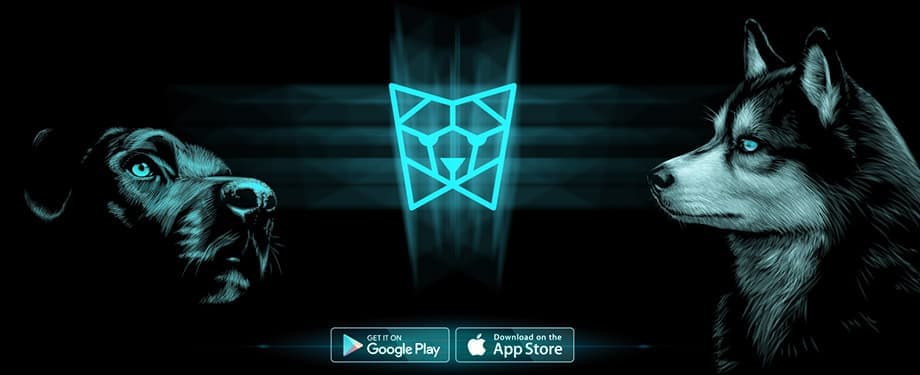 Top famous female dog names in history
Laika, the Space dog (mixed breed)
We decided to start our list with one of the most famous female dog names in history – the beloved astronaut, Laika. She could even be the most famous dog in the world.
Laika was a stray and a mixed breed seemingly between a Husky or Samoyed and a Terrier. She was chosen to board Sputnik 2, a Soviet spacecraft launched into space on November 3rd, 1957. Laika was the first animal launched into orbit and the first living creature to orbit the Earth.
As little has been known about the effects of space travel, she was sadly not expected to survive the ordeal and there were no means set in place for her return to Earth. Due to the Space race between the US and the Soviet Union, ethical issues with animal experimentation have sadly been overshadowed.
Even though her story is not a happy one, we salute her and thank her for her (unwilling) sacrifice. Her contribution paved the way for further research in human spaceflight.
Sallie, the American Civil War Mascot (American Staffordshire Terrier)
Sallie Ann Jarrett (or Sallie for short) was born in spring 1861 and is postulated to be a breed closest to today's American Staffordshire Terrier. She was gifted to Capt. William R. Terry, the captain of the 11th Pennsylvania Infantry. During their training, Sallie had participated in their drills and even joined the color guard for dress parade.
But she wasn't just a show pooch – Sallie followed her fellow soldiers to battle every single time and fought at the front lines. During the first day at Gettysburg (1863), Sallie was separated from her platoon. She was found 3 days later at the battle site, still guarding wounded and dead fellow soldiers.
Sallie was shot during the Battle of Spotsylvania Court House (1864). Even though the bullet couldn't be removed surgically it was expelled naturally and she survived. Sadly, she wasn't as lucky during the Union advance at Hatcher's Run (1865), where she succumbed to another bullet wound.
During her time with the regiment, Sallie even birthed 5 litters of pups to top everything off. Talk about a working mama!
Smoky, the First Therapy Dog (Yorkshire Terrier)
Smoky was a tiny Yorkshire Terrier born in 1943. She was found by an American soldier in a jungle in New Guinea. Smoky was later sold during a poker game to Corporal William A. Wynne for 2 Australian pounds.
Smoky accompanied Wynne and was even credited with 12 combat missions and received 8 battle stars. Even 150 air raids, parachuting and a typhoon couldn't stop her.
Wynne called her "angel from a foxhole" after warning him of incoming shells and guiding him to safety, effectively saving his life.
During their downtime, she learned a lot of tricks to entertain the troops along with Special Services. As she wasn't an official war dog, she didn't have access to veterinary medicine or a special balanced diet, but she has never fallen ill.
When Wynne contracted the dengue fever in 1944, he smuggled her into the hospital. With her tricks and simply her presence, she boosted the morale among the soldiers in the hospital. Dr. Charles Mayo allowed Smoky to stay and even do rounds.
As such, Smoky is considered to be the first therapy dog. The news of the positive effects of her presence had spread to other hospitals. Soon after therapy dogs were also used to treat depression and PTSD.
After the war, Smoky continued to be a therapy dog and became even more famous. Over the next 10 years, they traveled the world showing off her amazing skills. Smoky knew so many tricks, that she performed in 42 TV shows without repeating them. She could even walk a tightrope blindfolded!
Smoky unexpectedly died in 1957 at the beautiful age of 14.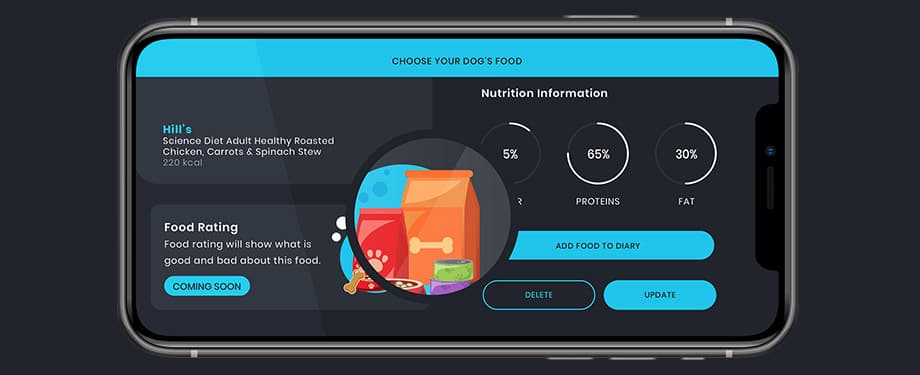 Buddy, the First Guide Dog (German Shepard)
Buddy was a female German Shepherd trained at Fortunate Fields, a training school established by Dorothy Harrison Eustis, an American dog breeder living in Switzerland. Eustis first trained German Shepherds to be police dogs. She witnessed a school in Germany training dogs to be guide dogs for blinded vets and decided to write an article about it. The article was suitably named "The Seeing Eye" and was published in the Saturday Evening Post in 1927.
A lot of people contacted her regarding the article, one of them being Morris Frank. Frank asked her about the school, the trainers, where he could get a dog like that and offered to forward the work in the US. As Frank was blind and in need of a guide dog himself, Eustis invited him to Fortunate Fields.
Frank was partnered with a female German Shepard named Kiss. He swiftly renamed her to Buddy to go more with his image. At the school, he was trained on how to work with her by Elliot "Jack" Humphrey. In June 1928 he returned with Buddy to New York City.
Upon their return, Frank immediately spread the word about guide dogs and received a lot of attention in the media. They performed demonstrations on how guide dogs can help and give blind people independence during travel.
As they have been successful, Frank and Eustis set to create The Seeing Eye, the first guide dog training school in the US. Buddy was the first guide dog from the Seeing Eye.
Top famous male dog names in history
Bud Nelson, the transcontinental dog (Pit Bull)
Automobile pioneer Horatio Nelson Jackson and his driving partner Sewall K. Crocker were the first people to drive an automobile across the US. They embarked on the journey on May 23 1903 because of a bet Jackson made to prove a car could drive across the county. He convinced Crocker to join him as a travel companion, mechanic, and backup driver.
During their travels, Jackson wanted a dog and so in Idaho, they acquired a lovely Pit Bull, named Bud. As Bud had trouble with the dusty winds from the alkali flats, Jackson fitted him with goggles. Those became Bud's trademark look. They can be seen even on the sculpture of Bud at the National Museum of American History.
The trio became famous and were sought out by the press at their stops. Their adventurous journey was concluded in New York City on July 26, 1903. And so, Bud Nelson was the first dog to cross the United States in an automobile.
The Sled Dog Heroes of Nome
In January 1925 Nome has been afflicted with a potentially deadly diphtheria epidemic. The serum to stop the outbreak was in Anchorage, Alaska and the only means of transportation was by a dog sled relay across the US.
20 mushers and approximately 150 sled dogs traveled across 674 miles (1.085 km) in 5 and a half days to save the younglings of Nome. The journey was appropriately named 1925 serum run to Nome.
Balto (Siberian Husky)
Balto, a Siberian Husky, was born in 1919 in Nome, Alaska. He was a sled dog owned by Leonhard Seppala, a Norwegian sled dog breeder, trainer, and musher. Balto, as the lead sled dog, participated in the race. The team was driven by musher Gunnar Kaasen, a family friend of Seppala's.
Kaasen and Balto's team were scheduled to pick up and transport the cylinder of serum at the next-to-last leg of the race. They traveled during the night and even with bad weather, they've reached the drop-off point ahead of schedule. The team that was scheduled to transport the serum on the last leg of the relay was asleep. To save time, Kaasen decided to keep ongoing.
Balto, Kaasen, and the team traveled 54.3 miles (87km) and finally reached their destination and safely passed on the serum. The sled dogs and their drivers were celebrated as heroes as no further lives have been lost to the epidemic.
Balto and his team were relegated to a vaudeville circuit and after Kaasen desired to return to Alaska, they were sold by the sponsor of his tour to the highest bidder. They ended up being badly treated and chained up at a novelty museum and freak show in LA.
When George Kimble discovered their condition, he worked with the newspaper Plain Dealer to save them and bring them to Cleveland. In 1927 Balto and 6 others, were brought to Brookside Zoo with a hero's welcome.
They lived their last years at ease at the Zoo. Balto died of old age in 1933 when he was 14 years old. After his death, his body was mounted and is still on display in the Cleveland Museum of Natural History.
A statue of Balto in honor of all sled dogs that participated in the race was erected in December 1925 in New York City's Central Park. Balto was also memorialized in a children's book Balto: The Dog Who Saved Nome (1977). In 1995 a live-action animated movie named Balto, by Universal.
Togo (Siberian Husky)
There is quite a bit of controversy surrounding the most deserved sled dog and driver of the relay as the media focused more on Kaasen and Balto as they were the ones that finished the relay and passed the serum. However, there have been others that traveled further and in more dangerous conditions – such as Togo and Seppala.
Togo was a Siberian Husky, born in 1913 in Nome and was also owned by Leonhard Seppala. As he was quite ill as a puppy, Seppala believed he would not be suited to become a sled dog and hence gave him away to be a pet dog.
Togo was not happy with that and after a few weeks ran away from his new owner. He ran several miles back home. His strong will and devotion impressed Seppala so he decided to keep him.
When Seppala took other teams on runs, Togo often broke out of his kennel and attack the lead dogs of the oncoming teams. One day he came across a stockier malamute leader and was severely injured. When recovered from the injuries, he learned a valuable lesson and kept clear of other teams.
When Togo was just 8 months Seppala took a team of sled dogs on an overnight round trip and ordered for Togo to be kept tethered in a kennel as he was too rowdy. When Seppala left, Togo tried to get out and was caught on the fence. A kennel handler rescued set him free, but before he could secure him, Togo took off after Seppala.
Togo followed them during the night and slept outside Seppala's cottage. The next day Seppala noticed him and to prevent him from affecting the other sled dogs, he put him in a harness to control him. Togo settled down which surprised Seppala and so during the day he moved Togo further p the line.
At the end of the day, Togo shared the leas position and had logged 75 miles. As it was his first day in a harness such a feat was unheard of for an inexperienced pup like Togo.
After that Togo began his training and after a few years became the lead sled dog. His endurance, intelligence, and many impressive feats were logged by many historians and also by Seppala.
Togo was one of Seppala's most treasured dogs. He joined the 1925 serum run to Nome when he was 12 years old and had been a lead sled dog for 7 years.
Togo led a team of sled dogs driven by Seppala over 260 miles (420 km) in 3 days, which is by far the most any other teams made during the race.
They traveled overexposed open ice with degrees estimated at −30 °F (−34 °C), and a windchill of −85 °F (−65 °C). At one point, the temperature dropped to −40 °F (−40 °C), and the wind increased to 65 mi/h (105 km/h).
After 84 miles (134km) on their first day, they slept for 6 hours and then continued. When Seppala couldn't see where they were going, Togo took the lead and led the team safely forward. With a lot of near-death experiences, they have successfully finished their end of the race and passed the serum to the next team.
After the race, Togo and Seppala received a lot of attention as well (but still not as much as Balto). Upon his retirement, Togo enjoyed a life of luxury. Over the next few years, he was also bred and laid the foundation for the modern sled dog breeds known as the "Seppala Siberian Sleddog" and the modern Siberian Husky.
Togo died in 1929, 16 years old. After his death, Seppala had him custom mounted and is now on display in a glass case at the Iditarod Trail Sled Dog Race Headquarters museum in Wasilla, Alaska.
In 2011 Togo was named the most heroic animal of all time by Time magazine. In 2019 his story was told in the Disney movie Togo.
Sinbad, Chief Dog of the US Coast Guard (mixed breed)
Sinbad, a mixed breed born in 1936, was obtained by A. A. "Blackie" Rother of the USCGC George W. Campbell. Rother got Sinbad for his girlfriend, but as she couldn't keep him, the crew of USCGC Campbell helped enlist Sinbad in the US Coast Guard.
Sinbad signed his enlistment papers with his pawprint and has even received his own bunk among other things. He was ranked and subjected to discipline regulations and could (and has been) promoted and demoted in accordance. He retired with the rank of Chief Dog (abbreviated K9C), equivalent to that of Chief Petty Officer.
Sinbad is one of the only two animals classified as non-commissioned officers in the US military, before regulation to allow it has been changed. His presence on the ship helped with morale, discipline, and comradery amongst the crew.
During World War 2, Sinbad served on the USCGC Campbell with his fellow crewmen. He was assigned to damage control below the deck. During his 11 years of service, he has received numerous service ribbons, which were proudly attached to his collar.
Sinbad was honorably discharged from the Cast Guard in 1948 and was put on "inactive duty". He lived his last 3 years in peace, quietly on the shore.
Nemo, the hero of the Vietnam War (German Shepherd)
Nemo was a German shepherd, a war dog who served in the US Air Force during the Vietnam War. With the traitorous jungle conditions and guerilla warfare, the soldiers were subjected to, the war dogs with their keen sense of smell and amazing hearing were crucial.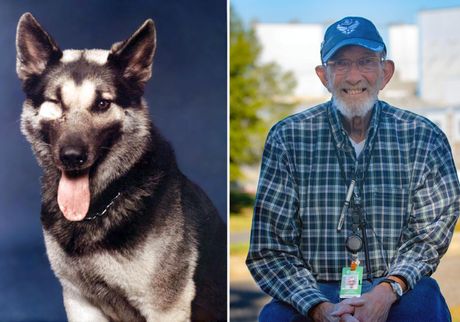 Nemo and his handler Airman Robert A. Throneburg were stationed at the Tan Son Nhut Air Base as part of security detail. When their base fell under attack in the early hours of December 1966, they managed to kill two enemies while sustaining heavy injuries themselves.
Nemo was shot in the right eye, but the bullet luckily left through the left side of his snout. Despite his injury he continued to fight their attackers, giving Throneburg just enough time to call for backup. When Nemo took care of the other attacker and Throneburg passed out from his injuries, Nemo crawled on top of him and warded off any potential enemies until help arrived.
As he could no longer see out of his right eye, Nemo was retired and decorated for his war efforts. After his retirement, he helped to promote the enlistment of K9 units. Nemo died in 1972 and has received a proper burial.