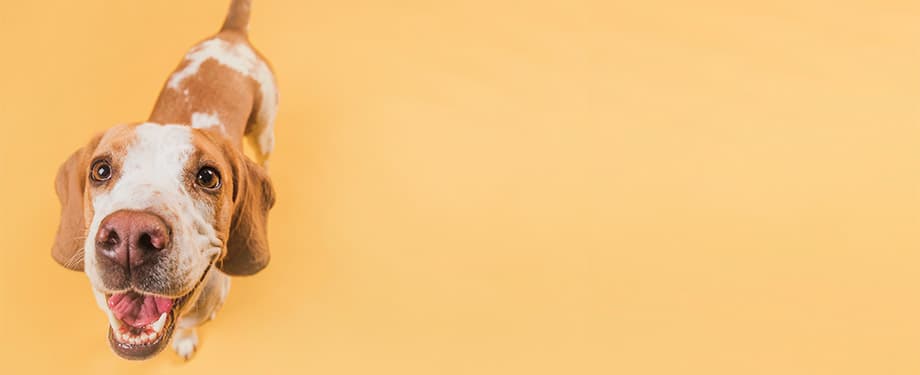 Dog obesity is a serious global concern with 40% (or more) of dogs being overweight. It causes many health risks and can reduce a dog's lifespan considerably. We've compiled some helpful tips to determine if your dog is overweight and how to help with their weight loss.
5 tips if your dog is overweight and needs to lose weight:
make an overweight dog diet plan and ease them into it gradually
keep a dog food diary
limit treats and snacks
ensure a regular dog exercise
measure and monitor their progress
Most importantly to ensure progress in the long run and not have them fall back to their unhealthy weight, be their rock and stick with the regime you've created for them. Not sure how to go about the aforementioned tips? We've got you boo, just keep on reading. But first, let's take a look at why dog obesity is such a concern.
Dog obesity and major health risks
Obesity is a medical condition where accumulated excess body fat can have negative effects on health. This definition by WHO was made in mind for humans but can be easily used to describe obesity in dogs just as well.
Based on a 2018 clinical survey conducted by the Association for Pet Obesity Prevention (APOP) they estimated that 50 million dogs (55.8%) in the U.S. were overweight or even obese.
What can cause a dog to be overweight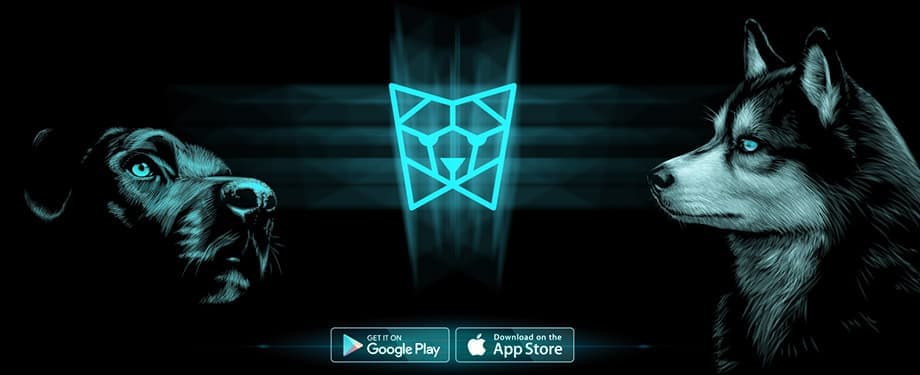 There are many reasons for obesity in dogs. It can be caused by a medical condition (like specific diseases, handicaps, medication, if they are spayed or neutered, aging, etc.) or genetic predispositions based on the dog's breed. If you're curious, we've listed some in our blog titled Dog breeds, their needs, and finding which dog fits.
Most commonly though, it stems from the lack of knowledge about their proper nutritional needs (how many calories a dog needs per day and the best diet for dogs based on the dog food ingredients and their specific dietary needs), lack of exercise, and emotional state caused by our own lifestyle and environment we live in. Luckily, the first two are easily corrected.
What are the health risks when dogs are overweight
We've already written a bit about health risks that come with dog obesity in one of our previous blogs, but as it's such an important topic and the health risks can be prevented or at least lessened to an extent, we've decided to expand on the matter a bit more.
As we've learned, obesity causes negative effects on health and that can lead to shortened lifespan (up to 2.5 years) and overall lesser quality of life for your doggo. It improves immensely if you help your dog lose that excess weight, but it's even better if you prevent it from accumulating in the first place.
Here are some serious health risks caused by dog obesity:
development of sugar diabetes
digestive disorders
increased risk of heart disease
high blood pressure (hypertension)
higher risk of cancer
high risk of surgical and anesthetic complications
decreased liver and kidney function
weakened immune system
skin and hair coat issues
There are also health complications that lessen the quality of life caused by the added weight such as:
decreased stamina
difficulty breathing
higher risk of damage to joints, bones, and ligaments
Help! Is my dog overweight?
Most of us, when looking at our cute rounded balls of fur, don't even realize that they could be overweight, and then we are quite surprised when being scolded by the veterinarian. So if you think your dog might be overweight, there is a high probability that they are (or at least have a little excess weight they could part with – oh, don't we all).
How to determine if my dog is overweight
Logically thinking, to determine if a dog is overweight or not, would be simply to weigh them, right? Based on VCA they can be considered overweight when they weigh 10-20 % above their ideal body weight and obese when they weigh 20 % or more.
The problem with this method is that in most cases, because of different dog breeds and other physical attributes, it's hard to determine the ideal body weight for each doggo. So weighing your dog is better used when following your dog's progress, rather than determining if they are overweight or not.
Don't know how to correctly weigh your dog? We've made a tutorial you can check here.
A more common approach when discovering if your dog is overweight is to determine their BCS – Body Condition Score or with the PAWSM dog diet and nutrition mobile app, as we took a bit different approach, by determining a PBC – PAWSM Body Condition Score.
What is BCS – Body Condition Score
Body Condition Score is the usual way of determining your dog's "health condition". It's commonly measured on a 5 (sometimes 9) point scale, where a score of 1 represents the dog being too thin, 3 representing the ideal condition, and 5 representing the dog being overweight. The score is determined on a basis of visual and kinesthetic cues.
The problem with using the BCS approach for the PAWSM dog diet and nutrition mobile app is that it's often subjective based on the owner's bias while using visual determination of your dog's BCS based on general photos would be completely unworkable. So a different solution was needed.
What is PBC – PAWSM Body Condition Score
FCI (Fédération Cynologique Internationale) is the largest dog organization in the world. Among everything else that they're doing, they have also released their FCI breeds nomenclature and standards, which is the basis for our establishment of the PBC – PAWSM Body Condition Score.
Unlike BCS which uses visual and kinesthetic cues, we base our ideal condition based on FCI Standards which we then compare to user-collected data (breed, age, weight, height, gender, and health status). To ease the understanding for people who are familiar with BCS we decided to use the same 5 point scale, with the same meaning.
Dog diet and dog nutrition tracker
Sometimes there aren't enough hours in a day to gather all the information we need to make our own perfect overweight dog diet plan. Using confusing longwinded formulas to calculate how many calories a dog needs per day and include any special dog dietary needs based on the chosen dog food ingredients can be quite a chore.
Dog nutrition calculator and the PAWSM dog diet and nutrition mobile app
But luckily, the PAWSM dog diet and nutrition mobile app includes a dog nutrition calculator that takes all that from the dog food diary, adds the information about dog exercise from the dog activity calculator, and crunches the numbers instantly, giving you the perfect results to help deal with your dog's weight loss.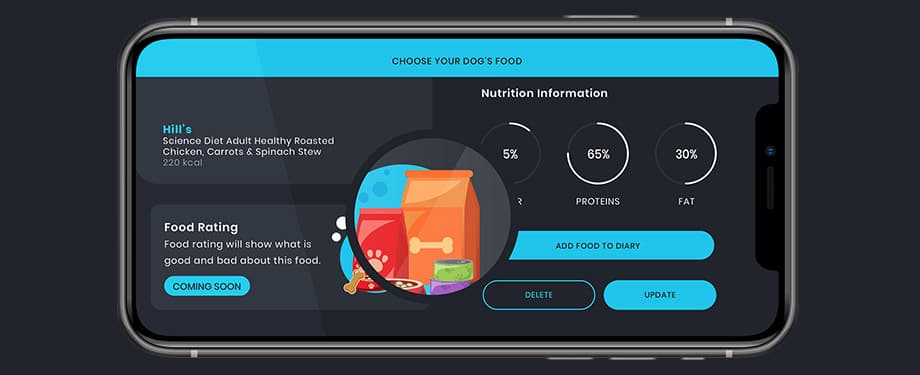 What do dogs need in their diet
To make a perfect overweight dog diet plan, you need to first determine what dogs need in their diet and what dog food ingredients you should look out for. The formula for a perfect, balanced dog meal is as follows:
Protein: 15-30%
Fats: 5+%
Carbohydrates: 40-50%
Fiber: under 5%
Calcium: 0,5-0,8%
Potassium: 0,6%
(Calcium : Phosphorus): 1:1 / 2:1
For a more detailed description of the mentioned dog food ingredients see our blog about the best diet for dogs based on the dog food ingredients.
How many calories does a dog need per day
The optimal daily calorie intake for dogs is not really unambiguous – there isn't merely one simple answer for all dogs. It depends on their breed, age, gender, health, activity, even if they are overweight or not.
As mentioned, it can be a bit hard to calculate how many calories dogs need per day, each day, by hand. But luckily, some tools can help with that. One of them is the PAWSM dog diet and nutrition mobile app that takes all the needed specifics and even compares your dog's ideal score to their current score.
If it determines that your dog is overweight it will make adjustments to the amount of dog food that your dog needs. Similarly, if your dog is underweight the app will slightly increase the amount of food needed. If your dog is in the perfect range the dog nutrition calculator will only count calories of the resting energy and the amount of energy expended with activities and then calculate the exact amount of food required, based on the chosen dog food you've listed in the dog food database.
Why not make life easier for yourself while doing the best for your doggo?
Love your dog, use PAWSM 😉