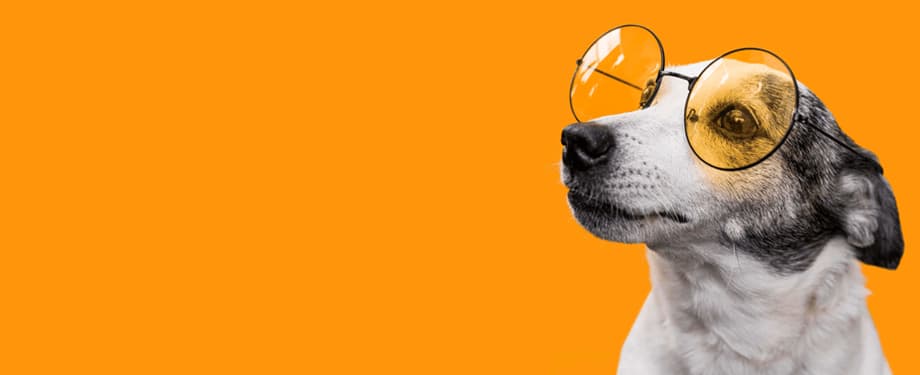 Ever considered getting a gift for your dog in the form of a dog accessory rather than just food? As it turns out you're not the first. The tradition of dog accessories in the form of dog collars and dog clothes has been around for several millennia.
History of Dog Fashion
The history of dog fashion can easily be described with three motivations:
ownership / belonging

protection / purpose

displaying wealth / amusement
Ownership and belonging
The story of wolf to dog's best friend is a long one. After the taming of dogs some 12.000-14.000 years ago people had to start marking dogs as their own. The first way to mark ownership and belonging (and probably the first dog accessory) was a collar. 
According to Wikipedia, the earliest examples of dog collars found come from ancient Egypt from 1440 BC, however, it can be assumed the idea of dog collars is much older. Examples of dog collars and dogs on leashes can also be found as images on Egyptian tomb walls as well as pottery.
Ancient Greek, Roman and Chinese examples of dog accessories can be also found on plenty of art pieces; from statues and pottery to mosaics. Thus we can see that our affinity towards dogs, and marking them as belonging to us is a very old idea. 
Protection and purpose
Besides companionship the original purpose of dogs was hunting; and it wasn't long before dogs were also used as instruments of war. In ancient Greece and later Rome a breed called Molossus (extinct, but most likely progenitors of mastiffs) was used as both guard dog as well as a war dog. They were fitted with spike studded leather collars and occasionally even wore suits of metal armor. 
Of course, considering that ancient Roman writers complained of people taking more care of their dogs rather than their children we can easily assume that the past was also filled with stylish dog collars and dog leashes.
The trend continued throughout the ages and examples of dog armor can also be found during the middle ages, messenger harnesses during WWI, and even today police dogs get their armor in the form of bulletproof vests.
That being said, hunting and war are not the only reasons for protective dog clothing. Dogs get cold; their paws are delicate in temperature extremes and through dog protective clothing we are remedying that. After all healthy puppers are happy puppers.
In recent times protective clothing became even more important than ever before, as we are importing dog breeds into completely different habitats to the one they're used to – just think of a Whippet in snow conditions (gonna need that dog coat really soon to keep warm). Similarly, you're gonna have to get dog boots for your dog if you walk them on very hot asphalt during the summer, otherwise, they're gonna get their paws burned.
Displaying wealth and amusement
We don't exactly know when the trend of dressing up dogs really started (other than leashes and collars), but we can find evidence of dog costumes in the 19th century and onwards, where royalty and the rich started buying costumes. They even had pet boutiques selling little trousers, jackets, housecoats, travelling clothes, bathing outfits, bracelets, boots…  Most people stuck to collars and leashes for their "work" dogs.
A dog dressed in a costume in a world where replacing your worn out boots is an impossibility for some is a rarity; an excess; a display of wealth. Only the rich could afford to spend money on that. Dog costumes were a symbol of money and as some trends of the rich go, the "masses" started imitating it.  
The trend of dog clothing stores has stuck since, as we still occasionally see dogs dressed in costumes rather than functional clothes. We'll leave the pondering of whether that is good or bad for the dog for another blog. Instead, let us consider what else is available for dogs other than simple clothes.
7 Types of Dog Accessories for Responsible Owners
If we simply look at the Amazon's store distribution we see most common dog accessories neatly arranged into the following categories:
But this list is both too long and too general to be of any use. For the purpose of this blog we'll delve less into fashion and more into "usable" and necessary dog accessories.
Because some people like to buy offline, and due to lack of availability in different markets, we'll speak less of individual products (other than our app) and more of the general ideas behind those products.
So here are 7 types of dog accessories for dog owners:
1. Considering that this is a PAWSM blog, a blog dedicated to our free PAWSM dog diet and nutrition app, we'll first start with us. Keeping your dog healthy is more than just protecting them from the physical damage, temperature extremes and making sure they and the vet are on a first-name basis.
Appropriate nutrition is a key factor in a dog's healthy life, PAWSM dog diet and nutrition app does just that by making sure you know how much to feed your dog. While it is not a physical dog accessory it is a good way to start the list.
2. Continuing on with the food theme, one of the most important accessories are dog bowls, to which we dedicated an entire blog. In the blog, you'll find that not every dog bowl or food container is healthy and there are plenty of hazards people are not all that aware of.
3. Dog toothbrushes come in various shapes and forms – as toothbrushes that you need to use, as toys that the dog chews to clean their teeth or even dental sticks. No matter which you choose you might want to consider at least one of the options.
4. Remember when we mentioned dog boots earlier in the blog? Paw protectors are not only used to protect dog's paws from heat or cold, but also from the salt that can damage the pads. If you live in a climate with temperature extremes or other environmental hazards, you should probably invest in some dog boots. You might not need them now, but you might need them later and they just might prevent a visit to the vet.
5. In addition to dog coats which protect dogs from the cold, there are also cooling vests that protect your dog from the heat. If you happen to have a breed unaccustomed to your current climate you should look into what you can buy for your breed. Just remember that during high temperatures dogs need plenty of water.
6. LED dog collars help with visibility of your dog in dusk or dark. If you walk your dog next to the road early in the morning or late in the evening you just might want to procure a LED collar, as visibility helps reduce accidents.
7. Of course, you can also fit a GPS tracker or a fitness tracker on your dog's collar. GPS trackers are an excellent idea if you let your dog roam free a lot, or if the dog stays outside. A fitness tracker on the other hand is a good way of keeping track of your dog's activity levels. By keeping track of the dog's activity you get some of the information on how to keep your dog's food intake at an optimal level.
There are of course more dog accessories; from harness mounted cameras, door openers, smart toilets, smart water dispensers,… What we listed are the ones we think owners should be made aware of. That being said, you don't need to buy every single accessory.
Why buy if you can DIY
Not everything that you get for your dog needs to be from some some dog fashion brand. Sometimes you can also make stuff for your dog, such as dog clothes or dog beds. Making dog accessories is nice, just make sure they're the functional and not restrictive type. 
Now we know that making a Halloween dog costume is probably not easy for everyone, but you might want to give it a try. We can assure you that while the pupper might care about the restrictiveness of the clothing, they won't be complaining in the event of sewing mistakes.
Dog collars, dog leashes, dog harnesses and dog bandannas are not outside of the realm of DIY, and most materials can bought rather cheaply in your local craft/sewing store. So get your thread, needles, thimbles and scissors and start making dog accessories. 
An extra hint; use your old clothes for parts of clothes or dog bed filler – your smell on them might help your dog calm down when they're alone, so no need to wash them too much. Just don't be icky.
Stay Awesome, use PAWSM.
PS: Which dog accessories do you use? Do you have any dog accessory ideas that you want to share with the world? Comments are welcome in the comment section below or on our FB page.